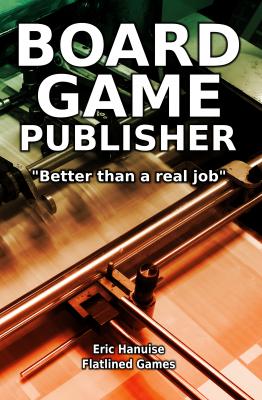 Board Games Publisher book
Buy now! (links at bottom of page).
The book explains the whole workflow of board game publishing, from reviewing designer prototypes to the finished games on the retailer's shelves. Anyone interested in starting a game publishing business or in finding a job in the boardgame industry should find answers to their questions.
The tabletop games market has never been as large and diversified as today. Yet, there are few books that focus on the business aspects of publishing tabletop games.
In this book Eric Hanuise, founder of boardgames publisher Flatlined Games, shares his experience learned from years of publishing:
The whole publication process, from the author's prototype to the finished game on the retailer's shelves
The different jobs available in the industry
Setting up your publishing company
Contracts with authors and artists
Manufacturing board games
Safety and legal obligations
Distribution and logistics
Retail, direct sales and crowdfunding
Fairs, conventions and events
Written by an actual publisher, this book will help you figure out the tabletop games industry. No matter whether you are just interested in how things work or you intend to set up your own board game publishing business, you will find answers to most of your questions here.
Table of contents
Introduction
Part 1—Preparation and Administration
Chapter 1—Gathering Information
Chapter 2—Become Part of the Community
Chapter 3—The Many Roles of Board Games Publishing
Chapter 4—Planning Your Business
Chapter 5—Setting up Your Business
Part 2—Financial Management
Chapter 6—Funding
Chapter 7—Accounting and Cash Flow Management
Chapter 8—Hiring
Chapter 9—Other Considerations
Part 3—Game Development, from Prototype to Product
Chapter 10—Sourcing Prototypes
Chapter 11—Change Management
Chapter 12—The Cost of Developing a Game
Chapter 13—Licensing a Game From a Designer
Contract Example
Chapter 14—Commissioning Artwork
Part 4—Prepress and Desktop Publishing
Chapter 15—Overview
Chapter 16—The Prepress Process and File Management
Chapter 17—Software Tools
Chapter 18—Board Game–Specific Prepress Techniques
Part 5—Production Techniques
Chapter 19—Paper, Cardboard, and Chipboard
Chapter 20—Printing
Chapter 21—Game Boards, Cardboard Tokens, and Game Boxes
Chapter 22—Cards
Chapter 23—Wooden Components
Chapter 24—Plastic Components
Chapter 25—Metal Components
Chapter 26—Laser-cut Components
Chapter 27—Electronics
Chapter 28—Cloth
Chapter 29—Ziplocks and Rubber Bands
Chapter 30—Other Components
Chapter 31—Shipping Cartons
Chapter 32—Shrink-wrapping
Part 6—Manufacturing and Logistics
Chapter 33—The Quote Request Document
Example Quote Request Document
Chapter 34—Asking for Quotes
Chapter 35—Preproduction
Chapter 36—Logistics
Chapter 37—Safety Regulations, Barcodes, and SKUs
Part 7—Sales and Marketing
Chapter 38—Sales
Chapter 39—Export
Chapter 40—Marketing
Chapter 41—Fairs and Events
Part 8—Conclusion
Part 9—Bibliography and Thanks
The book is in English language, so as to reach the widest possible audience.
Localised translations may become available at a later date if we get inquiries from foreign partners for licensing the book for their markets.
"Board Game Publisher" is available as print-on-demand paperback (6x9" , 270 pages), and as e-book.
The book is available worldwide on several platforms and formats for your convenience :
Retailers
Retailer inquiries are welcome, please use the contact form on this site.
Retailer copies are printed on demand and shipped directly to your store, with a suitable retailer discount.
Please indicate your store address and the number of copies you are considering, and I will send you a quote.