SteamRollers is now live on Kickstarter!
America, shortly after the first transcontinental junction in 1869.
Railroads are developing all over the vast expanses of the wild west, and business is booming. It is a time of adventure, progress, and opportunity. The transcontinental junction was a great milestone in American history, a first step that reshaped a whole continent.
In SteamRollers you are a railroad entrepreneur building a network of tracks and a fleet of train engines to secure freight delivery contracts before your opponents. At the core of the game is a very nice dice drafting engine by new designer Mark Gerrits (Be). In turn, players choose dice from a pool to draw rails on their individual playsheet, improve their engines, research new technologies or deliver goods to get points.
This is a Kickstarter 1-Year Exclusive* project: after the campaign, SteamRollers will not be available in distribution. It will only be available direct from Flatlined games and via a limited selection of retail partners.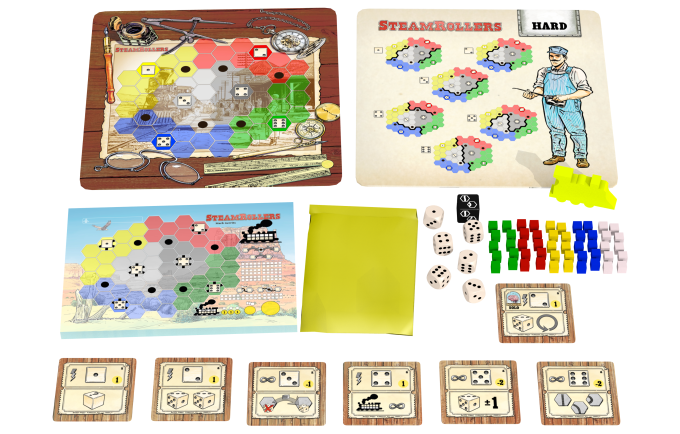 The Kickstarter campaign will run from Aug 22 to Sep 21, so don't miss out, pledge now!
https://www.kickstarter.com/projects/flatlinedgames/262599968