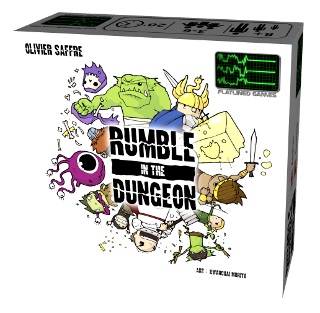 Flatlined Games is pleased to announce our third game : Rumble in the Dungeon, by Olivier Saffre.
Rumble in the Dungeon will be released in October, during the Essen Spiel'12 Game Fair.
Flatlined games will be present at Essen Spiel'12, in booth 4-216.
About the Game
The dead king's tomb is said to be filled with riches and treasures. This draws numerous adventurers and monsters to the tomb. Only one will come out alive, maybe carrying the dead king's treasure!
Rumble in the Dungeon is a very simple game of bluffing and guessing.
Characters are placed in the Dungeon during setup. Each player gets two secret character tokens. Players may in turn move or eliminate one of the characters in the Dungeon. The player that kept one of his secret characters in play for the longest time shall win the round. During the game, other player's actions provide clues about their identity, or intended false leads. Each player tries to guess which are the other player's characters in order to eliminate them, while keeping their own safe.
Also, a character that manages to carry the treasure chest out of the Dungeon will win the round!
The simple mechanics and short play time make Rumble in the Dungeon a family game for 3 to 6 players aged 8 years and older.
The game is a stand alone expansion to Rumble in the House. Both games can be combined for playing with up to 10 people!
The humoristic art from Kwanchai Moriya perfectly suits this minimalistic party-game.
Rumble in the Dungeon is a small format box (13x13x5Cm) and will be available in a multilingual edition including rules in English, Spanish, and german and in a Multilingual French and Dutch version. MSRP is 16€.
You can download the rules from our website:
ritd_rulebook_endees_web_001.pdf
ritd_rulebook_frnl_web_001.pdf
Here is also a backstory eBooklet with all characters from Rumble in the House and Rumble in the Dungeon