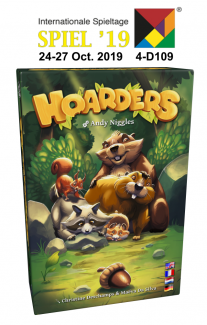 The essen Spiel fair is coming, this year it will be on Oct 24-27.
I will attend the fair this year again to show Flatlined Games' games with my team of volunteers.
We will be on booth 4-D109, in hall 4 next to the Galleria.
Flatlined Games releases a new title at Essen this year : Hoarders.
(We are looking for international distribution partners for this game.)
Hoarders, a game of hoarding nuts!
Winter is coming, and the forest critters are busy gathering nuts in preparation for the cold season.
Each player hoards nuts in his stash, all while stealing some nuts from the other players' hoards and playing some tricks on them. The first player to have five identical nuts in his stash wins the game!
Hoarders is a fast and smart game for the whole family.
The rules are very easy to learn, and the game plays under 15 minutes. You can read the rulesbook here : https://www.flatlinedgames.com/sites/default/files/games/hoarders/rules/hoarders_rulesbook_FrEnNlDe.web.pdf
Maëva Da Silva and Christine Deschamps' great art definitely belong to the 'post-modern so fluffy and cute you will tear up' school and make Hoarders a game not to miss!
Events on the booth :
All day long, demos of Hoarders and SteamRollers.
(Mark Gerrits, author of SteamRollers is part of our staff so don't hesitate to ask for a signed copy!)
Artist signings by Christine Deschamps and Maëva Da Silva :
Maëva and Christine will be on our booth Thursday from 12.00 to 13.30, Friday from 12.00 to 13.30 and Saturday from 14.00 to 16.00 to sign copies of their games, draw critters, and talk about games and art so make sure to pay them a visit!
Games on sale during the fair
We will have the following games on sale during the fair :
Hoarders, our 2019 new release (En/De/Fr/Nl)
SteamRollers (En/De/Fr/Nl)
Rumble in the House and Rumble in the Dungeon (Fr/Nl game is language-independent)
We look forward to meeting you at Essen!